Alisa Cooper de Uribe
Teacher
I have the Wild West in my blood, having been born in Wyoming and raised in Ratón, New Mexico. My horse-saddling, cattle-wrangling skills are fairly non-existent, though, since I spent my childhood outside the classroom with my nose in a book or my hands in the dirt, relishing imaginary worlds and building forts behind our house. Somehow, no one was surprised when I declared myself an English major on my college application form. My liberal arts undergraduate experience was filled with English and Spanish classes at Abilene Christian University, where I enjoyed two study abroad programs in the UK and Mexico. Graduate school then took me to Middlebury, Vermont, where I spent four summers steeped in Spanish while living the rest of the year in New York City. I worked at the Metropolitan Opera for a season (feel free to ask me how I met Plácido Domingo!) before teaching and librarying at The Buckley School. Spanish degree in hand, I promptly found a husband (the one and only Patricio Uribe) and a life in the Mexico City area, where I worked as a translator and blogged about the culture around me like there was no tomorrow. All that writing ultimately landed me an extraordinary job in immigration law here in Albuquerque, but the classroom continued to call, and I answered. After our daughter Clara was born in August 2011, the pieces all fell into place for me to become a part of the marvelous learning community that is NMIS. And though I can't guarantee that my students will be able to rope a calf by the end of the year, there's a good chance that they'll have stuck their hands in plenty of dirt and listened to Plácido Domingo.
Edelmira Leal de Loya
Teacher
The teacher Leal is from Chihuahua, Mexico, she is married, has three children and four grandchildren. For personal reasons she emigrated to the USA and attended classes at different universities to obtain her licensure as a teacher and be able to continue teaching. She loves the classroom and her students with her different backgrounds, and adapts her teaching to the needs of each student.
She considers the Education is to make students happy, their purpose should always be to achieve equality, transformation and inclusion of all individuals in society.
The teacher has worked for the immigrant community and for 5 years I work as a first grade teacher with children of immigrant children.
She has been trained in a variety of modalities that include AVID, New Mexico GLAD, LaCosecha, in addition to multiple School trainings from Albuquerque Public Schools (APS recognizing that communication with the school administration, parents and the community is of the utmost importance.
Bilingual Educator Licensure
Bachelor's in clinical psychology
Master in Rehabilitation of People with Language and Hearing Alterations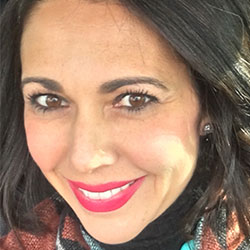 Elizabeth Olguin
Teacher
I am a native New Mexican. I attended elementary, middle, high school, undergraduate and graduate studies here in town. My Bachelor's Degree is in Elementary Education. My passion is teaching Early Childhood and Bilingual Education. I love teaching all subjects but especially reading, writing and exploring through the multiple intelligences. My Master's Degree is in Bilingual Education with an endorsement in teaching English to speakers of other languages. I was lucky enough to study Spanish culture and language for a summer in Spain. I have taught Kindergarten, First Grade, Second Grade and Reading Intervention. I practice differentiated learning. I love to read, the arts (music and dance), health and nutrition. When not teaching, you can find me exploring nature or with my family.