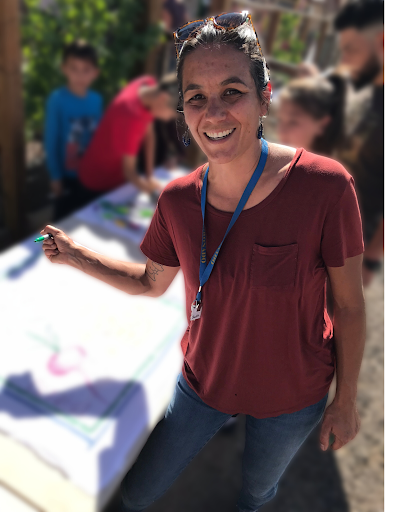 6th Grade Teacher
I am excited to be a part of the growing middle school at NMIS! This is my third year at NMIS, but my twelfth year as a bilingual teacher. Previously, I taught 4th and 5th grade dual-language before taking on the role of Garden Teacher, during which time I built a school garden and designed and implemented a bilingual K-5 garden curriculum. This experience deepened my understanding that learning in school should be purposeful and applicable to the real world.
My first experience as an educator was when I lived and worked in a rural village in the northern mountains of Nicaragua. During my three years there, I worked with a team to develop an educational program for high school students that provided opportunities for students to learn computer skills, English, entreprenuership and critical literacy, which was the course I helped develop.
As an educator, I see it as my role to facilitate learning through experience, discourse and the shaping of opportunities for students to apply their learning in a variety of contexts. I believe that in order for learning to be transformative, it will be uncomfortable to some degree – productive struggle is a necessary component of learning. I also know that community trust, communication and inclusiveness must be the foundation of teaching and learning so that all learners can be successful.
As an educator I strive to:
Be inclusive of all students, their identities, needs and ideas and thus create a safe learning space for everyone

Teach through inquiry, emphasizing universal concepts

Emphasize "learning to learn" in parallel with content learning goals

Develop learning in local and global contexts

Teach responsively: inform and adapt teaching continually in response to feedback from students
8th Grade Teacher
This is my fifth year at NMIS, and my 12th year as a classroom teacher. I enjoy learning alongside my students in all the subject areas I teach. It gives me great pleasure to connect with my students, see the world through their eyes, and incorporate my own interests in the classroom: growing food, animals, music, internationalism, and world language. I appreciate the Middle school sense of humor, and I hope to be a mentor to my students along with teaching them. I teach Science (in Spanish), Social Studies (in English) 8th grade Design and offer electives in Model UN, Science/Engineering, guitar and arts and crafts. Shoot me an email by clicking on my name!