International Baccalaureate Information
IB stands for International Baccalaureate, which is a global network of schools, educators, students, and parents whose mission is "to develop inquiring, knowledgeable, and caring young people who help create a better world through intercultural understanding and respect". In addition to the information below, here is a link: International Baccalaureate website designed for parents of students who are in an IB program.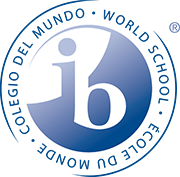 New Mexico International School is an International Baccalaureate World School offering the Primary Years Programme (PYP).
We share a common philosophy with other World Schools across the globe – a commitment to high quality, challenging, international education that New Mexico International School believes is important for our students. Only schools authorized by the IB Organization can offer any of its three academic programmes: The Primary Years' Programme (PYP), the Middle Years' Programme (MYP), or the Diploma Programme (in addition to the IB Career-related certificate).
Description of a Concept-Based Curriculum "A Concept is a mental construct that is timeless, universal, and abstract" (Erickson, 2001). From early childhood to post-secondary, the use of timeless, universal and abstract ideas in a curriculum design will stretch the learner beyond the facts and the basics. In using concepts to design curriculum, the teaching of content is built upon conceptual underpinnings. These concepts are often referred to as "enduring understandings" (Wiggins and McTighe, 2009). As an example, the concept of "cycle" can be applied in early primary to the seasons; in junior levels to frogs and butterflies; in middle school to photosynthesis; in high school to the effect of global warming on the water cycle; and in medical school to the cause of malaria. If knowledge is connected to the overarching concept of a cycle from an early age, a learner can make the connection between the different applications of the concept "cycle". Each new application of the concept is more meaningful and hence more enduring.
The PYP is a concept-based curriculum, meaning there is a strong conceptual element in its framework. The organizing themes of PYP are the conceptual organizers that guide curriculum design. The themes of the PYP provide a lens through which we explore our identity, our place in the world, our understanding of how things work, and our connection with the world. The units of inquiry with the corresponding questions constitute the conceptual foundation of the PYP. They also represent a golden tool that guides teachers and students in inquiring into content at increasingly deeper levels of understanding.
New Mexico International School's Program of Inquiry for the current academic year »
Credit: International Baccalaureate Organization